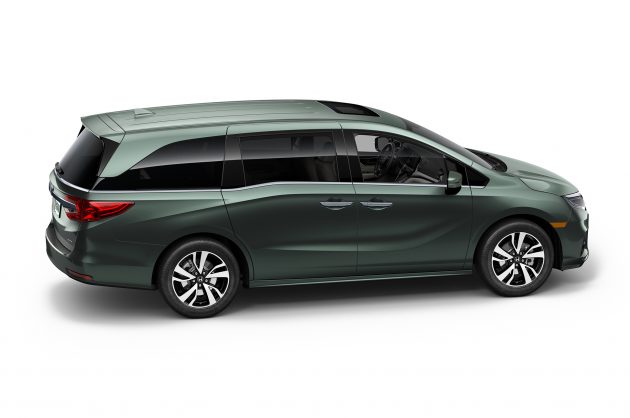 Earlier this month, Honda unveiled the sleek, sophisticated, and impressive all-new 2018 Honda Odyssey minivan. The latest version of the most popular minivan among American drivers over the last seven years will be hitting Honda dealerships nationwide sometime this spring. Here at your Honda dealership in Baltimore, MD, Heritage Honda Parkville, our team is chomping at the bit to see everything that this dynamic and engaging new minivan will offer local Maryland drivers. Keep reading to find out more!
For the 2018 model year, the Honda Odyssey offers a sophisticated and family-friendly design to go along with a host of new features and technologies, including the versatile new Magic Slide second-row seat and the new CabinWatch and CabinTalk technologies! John Mendel, Executive Vice President of American Honda Motor Co., had this to say about the upcoming all-new Honda minivan model:
"This new Odyssey raises the stakes for family-friendly packaging, performance and technology in the minivan segment. In all aspects of its design, the new Odyssey is made to keep every member of the family happy, no matter the seating position, no matter the destination. "
The 2018 Honda Odyssey takes in-vehicle connectivity to a whole new family-friendly level while also making it easier than ever in the quietest cabin in the class. It features a whole new host of connected-vehicle features and technologies such as the CabinWatch and CabinTalk tech. The CabinWatch tech uses a camera to let the driver and front passenger keep tabs on passengers both day and night via an 8-inch display audio screen, while CabinTalk lets the driver talk to second- and third-row passengers via the second- and third-row speakers and rear entertainment system headphones. With the Connected Rear Entertainment System, second- and third-row passengers can take advantage of the ceiling-mounted 10.2-inch Rear Entertainment System to enjoy streaming video, music, and much more!
While the 2018 Honda Odyssey is not yet available at our dealership, you can still view the new Honda models we currently offer by heading on down to Heritage Honda Parkville to speak to a member of our team today!