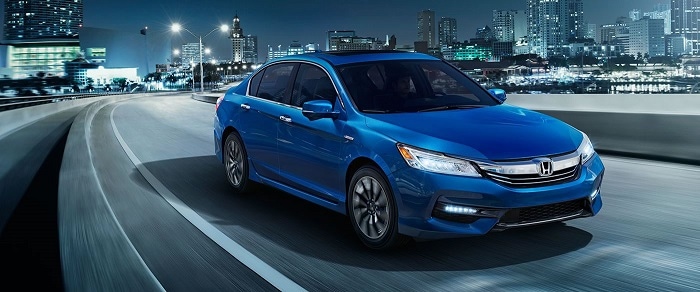 Right now at Heritage Honda Parkville, we're offering new and pre-owned vehicles at tent sale prices during the Heritage Auto Big Tent Event. Not sure where to begin your vehicle search? With summer here, and the open road singing its siren song of fun and adventure, we think the 2017 Honda Accord Hybrid is a top-notch choice. With the performance and quality the Honda brand is known for, and incredible efficiency that will help you go further and get more out of every mile, you can't go wrong with this standout sedan.
The Honda Accord is already known for providing great fuel efficiency. So how does the Honda Accord Hybrid step things up? With an incredible industry-first two-motor hybrid system. One motor accelerates the car from a dead stop, while the other starts the engine and charges the first. But there's one problem: Because Honda engineers enhanced efficiency without sacrificing performance, you may forget you're driving a hybrid. Maybe all those trips to the gas station that you aren't making will help you remember. When you're cruising past that rest stop you used to refuel at on the way to the beach, give Sport Mode a try and enjoy some added acceleration as your Honda Accord Hybrid taps into both motors at once.
Of course, the perfect summer vehicle needs more than just stunning performance and unbelievable efficiency—it also needs to offer comfort for those especially long road trips. Don't worry, the Honda Accord Hybrid does not disappoint. Spacious seating for five gives everyone room not only to sit, but to stretch out. Honda engineers even made sure to design a smaller battery pack to give you more space in the trunk for everyone's summer gear. They really did think of everything.
What are you waiting for? Head into our dealership near Towson, MD now to take advantage of Big Tent Event savings on your new 2017 Honda Accord Hybrid.