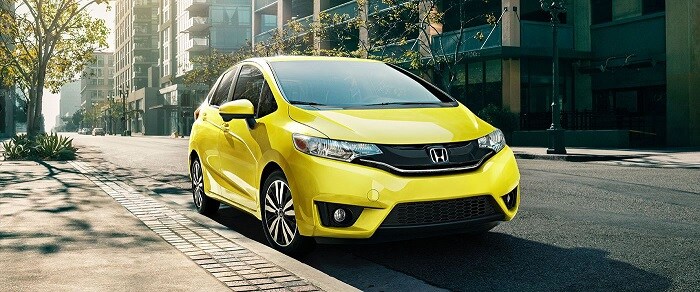 Like most folks, you've got too much to do and not enough time to do it in. Because you're on the go so much, your car becomes your de facto base of operations. Eat a quick bite, transport the kids, pick up the groceries, finally grab supplies from the hardware store so you can begin that next project. With all that and more to do, you need a car that can keep up. That's why we're going to tell you about the 2017 Honda Fit.
Let's start with the basics—comfortable seating for five, USB and 12-volt power outlets in the center console to keep your devices charged, and up to 52 cubic feet of cargo space. But where's that versatility we were talking about? It all comes down to the 2nd-Row Magic Seat®. It may just seem like a catchy name, but trust us, some days it seems downright fantastical. This seat makes it possible to configure four different interior modes that cover just about everything you need.
First up is Long Mode. Fold down the passenger-side seats in the front and rear and you've got yourself a pretty long runway that accommodates everything from ladders to surfboards depending on how your Saturday's going. Utility Mode gives you access to all 52 glorious cubic feet by folding down the 2nd-Row Magic Seat. Toss a bike or even a small couch inside and hit the road.
Now it's time for the really interesting stuff. Tall Mode is a lifesaver that you're not liable to see during any of your other test drives. By removing the headrests and folding up the back seats, you grant yourself access to four feet of vertical space. Remember that item that was too tall for anyone's car, even your friend with the SUV? Tell everyone you've got it covered. And then there's the most important mode, the one that your whole to do list hinges on—Refresh Mode. Fold the front seats back and recline the rear seats to take a well-deserved break.
Head in to Heritage Honda Parkville today and see what else the 2017 Honda Fit can do. If you fall in love, you're in luck—the Heritage Automotive Big Tent Event is going on now at our Parkville, MD dealership, so summer savings are in full swing on new Honda vehicles.