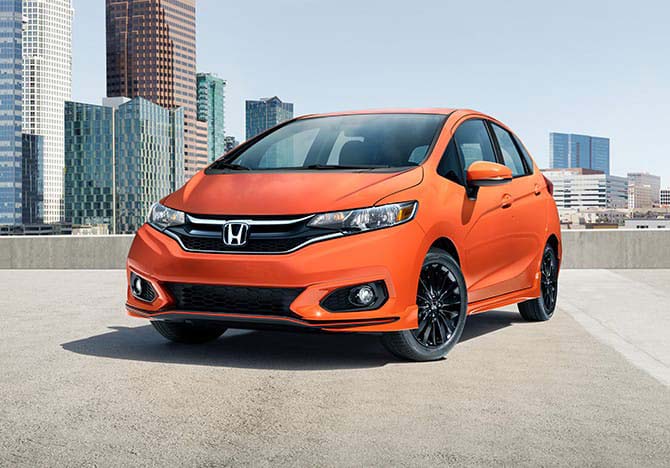 Space to fit everything and then some? Check. Athletic handling that will have you taking the long way every time? Check. Versatile interior that can be reconfigured in the blink of an eye to keep up with your ever-shifting to-do list? Check. Just what is this check-all-the-boxes automobile of your dreams? None other than the 2018 Honda Fit. We can't wait for you to head into Heritage Honda Parkville and take it for a spin.
The Honda Fit is a hit. It has been since it first made its way to our dealership. And for the 2018 model year, the Honda engineers have taken everything we've always loved about it and made them better. Where before you had three different interior configurations to choose from—Utility Mode, Long Mode, and Tall Mode—the 2018 Honda Fit adds a fourth: Refresh Mode, which allows you to fold the front seats back and recline the rear seats for a quick power nap.
We've always liked driving the Honda Fit, and now it's more satisfying than ever thanks to retuned suspension dampers, a more rigid steering system, and additional body reinforcements. All of this translates to an energetic and comfortable drive. And with the addition of an acoustic glass windshield, improved insulation, and a number of other adjustments, the cabin is quieter than ever.
One of our favorite improvements is the addition of a new Sport trim. You can recognize the new 2018 Honda Fit Sport right away thanks to aero form features along the front, rear, and sides, along with a three-strake diffuser with bright orange upper trim line, chrome exhaust finisher, and Sport badge. Inside, the Honda Fit Sport adds exclusive interior trim featuring black cross-hatched fabric and orange accent stitching, leather-wrapped steering wheel and shift knob, and steering wheel-mounted paddle shifters on CVT models, along with a bevy of premium tech features.
Head in to our Parkville, MD Honda dealership today to see why Autotrader said "This car absolutely deserves a spot on a buyer's shortlist."